April 4, 2019 – Spring Flower Show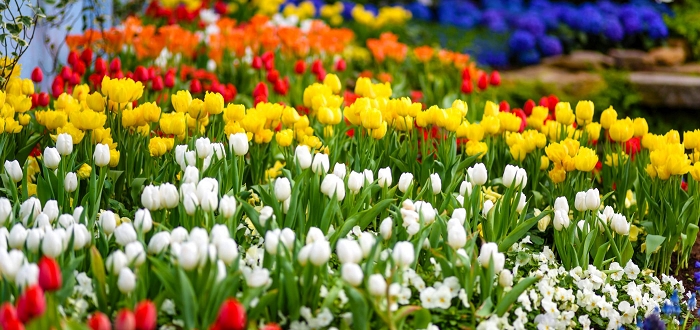 Join us for the Spring Flower Show at the Phipps Conservatory in Oakland.
Spring Flower Show: Gardens of the Rainbow!
Guests are invited to enjoy a close up view of vibrant lilies, tulips, daffodils, hyacinths and more throughout the glasshouse. The conservatory will dazzle with room after room of nature's most beautiful spring blooms on display, bursting with every color nature can offer.
As you enter the show in the Palm Court, look through the eyes of pollinators as supersized sculptures show how flowers appear to them. Meander through the colors of the rainbow in the Serpentine Room. Gaze at the sprawling tail of a topiary peacock in the South Conservatory, showcasing nature's breathtaking colorful patterns. Look and listen as the sounds of chirping birds and a nest of topiary chicks accompany bird-themed plants in rich hues of red, orange, yellow and peach in the Sunken Garden. Play with an interactive fountain that makes water dance among prism sculptures in the Victoria Room.
Date & Time:  Thursday, April 4, 2019 at 10:30 am
Cost of Tour:  $17 (Non-Members of Phipps – This includes the $2 docent fee)
(If you are a current member of Phipps – the only cost is $2 which covers docent)
Parking:  Free parking for visitors is available in the center island on Schenley Drive. Metered street parking is available on either side of Schenley Drive.   Accessible parking is available near the Conservatory's front entrance, running parallel to the bike lane.
During peak hours, visitors may also seek parking in one of the nearby lots listed below.  Click on links for information regarding cost:
Carnegie Mellon University – 299 S. Dithridge Street 
Forbes and Semple Garage – 210 Meyran Avenue 
Panther Hollow Lot – 2 Boundary Street 
Sennott Square Garage – 207 S. Bouquet Street
Soldiers & Sailors Garage – 4215 Fifth Avenue

Please note that this is a walking tour which will take approximately 1 hour.
RSVP:  You MUST RSVP no later than, Monday, March 18, 2019 by mailing your check made payable to ACRA to the following:
ACRA
PO Box 112615
Pittsburgh, PA  15241-0215
*If you miss the RSVP date, you can pay at the door and join the ACRA group at that time.