October 20, 2021 – Battle of Homestead Presentation
Battle of Homestead
October 20, 2021 at Noon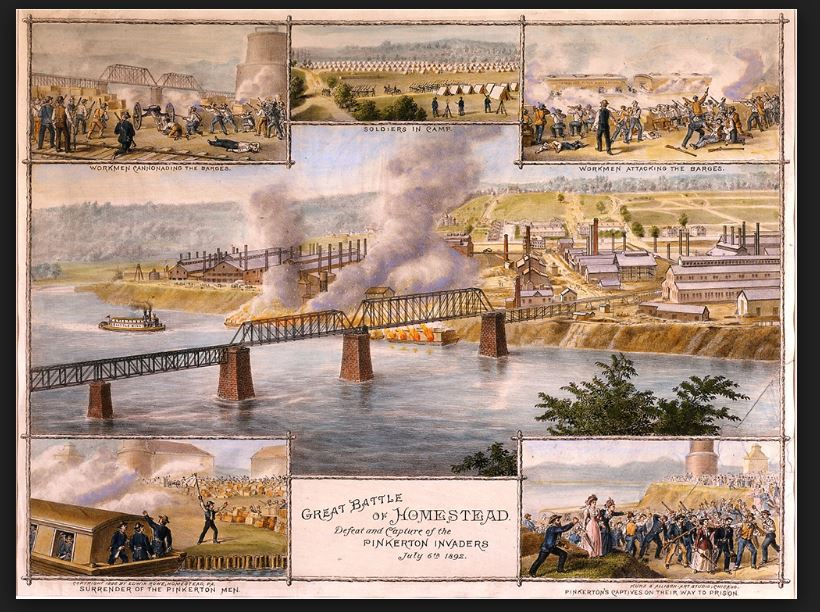 Jerry Fitzgibbon, Digital Coordinator at Battle of Homestead Foundation, interpretive historian at the Historic Pump House will discuss the Battle of Homestead.   Mr. Fitzgibbon currently volunteers as an interpretive historian with the Rivers of Steel Heritage Corp. in Homestead PA. at the Historic Pump House, site of the 1892 Battle of Homestead.  He is also on the board of directors of The Battle of Homestead Foundation, which was founded to preserve the Pump House, as well as the many stories it has to tell.
The Battle of Homestead is the most famous event in American labor history, and perhaps the most significant. Just after dawn on July 6, 1892, the battle erupted when locked-out steelworkers of the Carnegie Steel works at Homestead, together with citizens of the town, broke into the closed and fortified mill nick-named "Fort Frick" after CEO Henry Clay Frick. On the bank of the Monongahela River, they confronted a private army of Pinkerton agents hired by Frick as they attempted to land and secure the mill. The battle was soon joined, and raged throughout the day with gunfire, burning oil, and cannon.
At day's end, the Pinkertons surrendered. Seven workers and three Pinkerton "detectives" lay dead, with others wounded. When the Pinkertons were led away they were humiliated and beaten as they passed through a gauntlet of enraged women, children and townspeople. The conflict marked a watershed in U.S. labor relations and casts a deep shadow to this day.
RSVP No Later Than Friday, October 15, 2021
All luncheons start at Noon at the
DoubleTree Hotel by Hilton
Take Exit 67 off Parkway West, I-376
Turn left onto Mansfield Avenue
Turn right at the DoubleTree Hotel by Hilton sign
ACRA members – $17.00 w/reservation
Non-members and guests w/reservation – $20.00
ACRA members w/o reservation – $20.00 paid at the door
non-members and guests w/o reservation – $23.00 paid at the door
Mail all reservation checks to:
ACRA
P.O. Box 15285
Pittsburgh, PA 15237