March 20, 2024 – George Westinghouse and His Legacy
GEORGE WESTINGHOUSE AND HIS LEGACY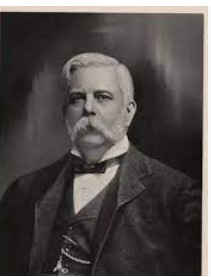 David Bear is a founding member of the Westinghouse Legacy, initial organizer of the Westinghouse Park 2nd Century Coalition, and a 40-year resident of North Point Breeze, Bear has spent his professional life as a writer. He was the Pittsburgh Post-Gazette travel editor for a decade and the creative force behind The Traveler's Journal, a series of "audio postcards" heard daily on public radio stations across the country. During a fellowship at CMU's Studio for Creative Inquiry, Bear conceptualized and organized the High Point Pittsburgh Investigation. His eclectic resume includes stints as a travel agent, tour guide, sales executive for a European travel company, and member of the Loch Ness Investigation Bureau.
Most people have heard of George Westinghouse, but have no idea the impact he had on how we have lived and our lives today. With more than 362 patents over 48 years, he was a visionary industrialist, inventor, and innovative entrepreneur. 
Westinghouse was an American entrepreneur and engineer based in Pennsylvania who created the railway air brake and was a pioneer of the electrical industry, receiving his first patent at the age of 19. Westinghouse saw the potential of using alternating current for electric power distribution in the early 1880s and put all his resources into developing and marketing it. 
Date:    Wednesday, March 20, 2024
Time:    Noon
Cost:      $20
Where:  DoubleTree Hotel – Greentree
Reservations are required to assure adequate space and food. Reservations and money are due no later than 3/13/2024
Tickets unavailable at the luncheon.
RESERVATIONS MUST BE RECEIVED NO LATER
THAN WEDNESDAY, MARCH 13, 2024
NO REFUNDS AFTER THE RSVP DATE
 Menu
Soup of the Day
Menu is not confirmed – once confirmed it will be posted
Assorted Rolls & Butter
Chef's Selection of Desserts
Coffee, Hot & Iced Teas
*Please note menu is subject to change.
All luncheons start at Noon at the
DoubleTree Hotel by Hilton
Take Exit 67 off Parkway West, I-376
Turn left onto Mansfield Avenue
Turn right at the DoubleTree Hotel by Hilton sign
ACRA Members  – $20
Guest w/reservations – $25.00
Mail all reservation checks to:
ACRA
P.O. Box 15285
Pittsburgh, PA 15237