Narcisi Winery Tour & Tasting – September 8, 2022
Narcisi Winery Tour & Tasting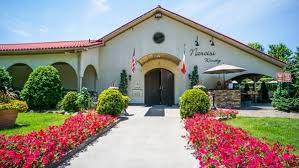 Founded in 2001, Narcisi Winery is a family-owned and operated winery. Nestled within the beautiful rolling hills of Western PA, the winery will draw you back to a setting reminiscent of a Tuscan villa, where time and worries dissolve into the countryside.
In 1911, Raphael Narcisi and his two brothers, Giovanni and Gabriele, immigrated to the United States from Italia, Abruzzo, Guilianova. They settled in the small community of Sharpsburg, a suburb of Pittsburgh. Bringing their knowledge of Italian wine-making to the city of Pittsburgh, Raphael nurtured his passion and continued to make wine for his family and community. Raphael's son Thomas learned the techniques and developed his love of wine-making. He eventually built a cellar on his farm in Coraopolis. In 1980, he passed the reins to his nephew Dennis who "inherited" the passion. Realizing his dream, he along with wife Sara and son Randy opened Narcisi Winery on November 1, 2001. In 2006, son Tony joined the family team and the tradition continues.
DATE of TOUR:  September 8, 2022
TIME of TOUR & TASTING:   1:30 p.m. (tour and tasting is approximately 90 minutes)
ADDRESS:  4578 Gibsonia Road (Route 910), Gibsonia, PA  15044
COST:   $25 per person
RSVP:    No later than August 24, 2022*
RSVP & PAYMENT MUST BE RECEIVED NO LATER THAN AUGUST 24, 2022
SEND RSVP & PAYMENT TO:  ACRA, P.O. BOX 15285, PITTSBURGH, PA  15237
Click Here for Directions:  Narcisi Winery
DETAILS:  All attendees should meet in the parking lot adjacent to the restaurant no later than 1:15 p.m.  Tour will begin outside near the grapevines.  The tasting room is upstairs and all attendees will need to be able to go upstairs.  THERE IS NO ELEVATOR IN THE BUILDING.
*Please note space is limited.