Rivers of Steel Tour – August 19, 2022
RIVERS OF STEEL TOUR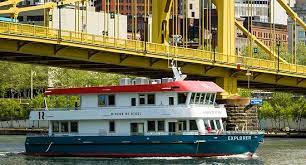 Rivers of Steel is a uniquely Pittsburgh 90-minute sightseeing tour on Pittsburgh's three rivers. on the Explorer riverboat.   The cruise seeks to answer the question, "What makes Pittsburgh, Pittsburgh?"
The Explorer riverboat docks on Pittsburgh's North Shore near the headwaters of the Ohio River and adjacent to the Carnegie Science Center.
DATE:      August 19, 2022
TIME:      1 pm (90 minute tour)
BOARDING TIME:  All passengers are to board at 12:30 p.m.
COST:      Senior Rate – 62+  $18.00   –   General Admission is $25.00 – Children 4-17 – $12.00
RSVP:   

RSVP & PAYMENT MUST BE RECEIVED NO LATER THAN JULY 28, 2022
SEND RSVP & PAYMENT TO:  ACRA, P.O. BOX 15285, PITTSBURGH, PA  15237
HANDICAPPED ACCESSIBLITY:  There is an elevator to take people up to the top deck and handicapped restrooms are available.
PARKING:  Parking is available in the Science Center Lots or elsewhere on the Northside
*There is water available but not refreshments.  We are permitted to bring soft drinks or water and our own snacks on board.